Here's link to the picture of the oarlocks mentioned above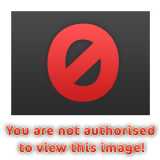 As you can see, this places the oarlocks as far outboard as possible, which would allow you to use somewhat longer oars that are likely more efficient.
My take, having rowed a friend's DSII across a marina once: the DS hull is not easily driven, making it awkward for both paddle and oars. I would rate either fine for limited distances.
Now the oars I was using were optimized for easy stowage, not optimized for best proportions and leverage. One of the problems is that correctly proportioned oars are longer than the bottom of the cockpit. It may be possible to carry them on deck, with their blades forward of the shrouds.